Social Parade - Wednesday LinkUp and a laundry thought.
4/14/2010 08:40:00 AM
I've never participated in this LinkUp before - but I recently added the Networked Blogs widget so I thought I could use some love over there - it's kinda bare! hehehe

So - Here's the deal!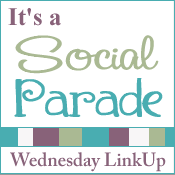 To participate.
Follow the blog in spot 1 on Networked blogs. All blogs participating must have the Networking blogs widget so followers can easily find it.
Link-up your blog post for "

It's a Social Parade

" that you made on your blog.
Follow as many as you like commenting on their post as you do so they can follow back!
As a side note...kind of, I'm thinking about not separating my laundry before I wash it. I'm thinking of washing it by PERSON instead of COLOR, that is...here's where I got the idea from
Organizing Junkie
...any thoughts?