Mama Guilt and Sunday Catch-up (on Monday, again)
4/12/2010 07:37:00 AM
We had a pretty good weekend – minus the sleep issue that I will get into in a minute.
Friday, I had my niece all day.
Much fun was had by all ~ until it came time for me to cook dinner…then (excuse my language here) all hell broke loose.
So, I called her father and he came and picked her up and I was able to finish my Chicken Noodle Casserole.    If you look back at the menu I made at the beginning of last week, you will see that I was suppose to make the Chicken Noodle Casserole on MONDAY . . . but didn't make it until FRIDAY.  A prime example of why I feel like menu planning just doesn't work out for us right now – I know it's just another excuse, but I feel like when the kids are in school and we are on more of a schedule I will get better planning and executing the plan.  But hey, I'm not perfect.  The Chicken Noodle Casserole, by the way, was pretty yummy.
Saturday was pretty uneventful…except for the Mama Guilt I'm going to talk about below.  We didn't do much at all on Saturday.
Yesterday, I went to a jewelry party with my mom at my friend Cathy's house.  It was nice.  I talked my mom into buying me a ring and I bought myself a pair of gold earrings.  I decided I wanted big earrings.  I have some smaller earrings, but want to have something a little bit more noticeable for the 3 times a year I get to go out of the house for something resembling a date with my husband.  Like the Michael Buble concert – I'm still smiling about that!
After the jewelry party, I met Jerry and the kids at my MIL's house.  The babies had their  first taste of Memaw's Chicken Noodle Soup (blended with the emersion blender).  They LOVED it.  Then, we had dinner and the kids played with their cousins until the street lights came on and we all went home.  We did watch Undercover Boss last night – the 1-800-Flowers one AND the GSI one.  I had been telling Jerry he should watch it with me and he finally did – he enjoyed it, I think.
Okay – on to the Mama Guilt…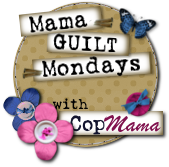 Do YOU have any Mama Guilt on your mind today? Here's what you do:
1. Blog about YOUR Mama Guilt, funny or serious. Using the prompt is optional.
2. Mention "Mama Guilt Mondays" in your post by putting a link back to CopMama or copy/paste the button into the HTML.
3. Head back to CopMama and add your post to the MckLinky!
My Mama Guilt for Monday, April 12, 2010
From the moment these little guys were conceived – before we even knew there were 2 of them – they were sleeping snuggled close to each other.   When they were tiny we would put them in the same bouncy seat together and they would sleep wonderfully.
They loved to snuggle up next to each other in their Boppy.
And they have ALWAYS shared the same crib…  
Until Saturday ~ when we finally bit the bullet and put up the second crib and separated them because they kept waking each other (and us) up in the middle of the night.
I was doing pretty good with the whole thing – until I went in to check on them before heading off to bed myself.  David (you can kind of see him on the right) was pressed the whole way up against the left side of his crib.  Dean was pressed the whole way up against the right side of his crib.  All I could think was that they were "looking" for each other.  It made me get all choked up and my eyes swelled…but I got over it.  I felt VERY guilty about separating them just because I wanted to sleep better . . . and in case you are wondering, Saturday they didn't sleep any better than they had been, but Sunday was a little better and I suspect it will continue to get better for the rest of the week.
It got me to thinking about when they get older…what if they take different classes in high school?  What if they play different sports?  What if they go to different colleges?  What if they are *gasp* individuals instead of "the twins"? 
I had mentioned all of this to the women I work with well over a month ago when we had originally planned on making the switch.  I just couldn't do it.  I do realize, though, that they aren't the same person.  That they aren't always going to want the same things or do the same things.  I just think that I want them to always have that sweet and special bond that they seem to have now.  I want them to lean on each other like they did when they were sleeping side-by-side.  I don't want to take that away from them…but I also don't want to hold them back.
Here's to better night of sleep tonight – and my Mama Guilt being gone…I know I did what is best for everyone and I'm probably the only one who is even the slightest bit bothered by it.