5 Question Friday and Friday Follow + Menu Promised
4/02/2010 05:47:00 AM
If you are here from Friday Follow ~ Welcome!
Feel free to find out a little more about me and my family at My Kiddos page and my About Me page!  If you follow, make sure to leave me a comment so I can stop by and return the favor!
It's also time for the next edition of 5 Question Friday ~ which I haven't done in a while but decided to start up again this week.
You can play along by copy and pasting the questions from Mama M's site and linking up to her MckLinky!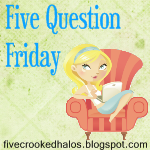 1. Do you sing out loud in the car when you're driving?
Yes ~ I sing out loud in the car when I am driving…alone, that is.  I don't sing out loud if anyone else is in the car with me.  In fact, I LOVE singing out loud when I'm driving – I usually try to calm down a bit when I get to a stop light or intersection where someone may see me, though.
2. What would you never be caught doing?
Everything I thought of here was hygiene related – gross as it is, my personal hygiene has taken a hit since having 4 kids.  I just don't seem to have enough time to pay the same kind of attention to it that I use to…so it would either be a) using mouthwash instead of brushing my teeth on the way out the door (just call me Ms. Simpson) or b) picking my nose…I know that everyone does it, but you don't really want other people to see you doing it.
3. Will you go #2 in a public restroom?
Yes,  I have HAD to – no way I was going to make it if I didn't.  This is because I had my gall bladder removed a few years ago and every once in a great while something I eat will upset me so much that it's a race to the restroom.  Aren't you glad that was a featured question this week? 
4. Have you ever broken a bone?
No, not unless you count my nose – which isn't really a bone, right?
5. Do you prefer cooking or baking?
Cooking!  I HATE baking, in fact.  I never time the oven right – or know exactly when it's done…so usually I end up with brownies that aren't really done enough and cookies that are a little "dark" on the bottom.
With that being said…here is my "menu" for the upcoming week!
Friday – Fish Sandwiches (it is Good Friday, after all!)
Saturday – Dinner @ my Mom and Dad's (so far this menu planning thing is pretty easy!)
Sunday – Dinner @ my SIL's for Easter (I am making these to take, so it's not a completely cook free day!)
Monday – Chicken Noodle Casserole
Tuesday – Burgers and Dog and Fries on the Grill (it's my birthday – and I LOVE a good Cheeseburger…well done, though)
Wednesday – Pasta with mushrooms and peppers
Thursday- Breaded Pork Chops
I kind of cheated by using recipes I knew I had some stuff for and were pretty easy this week.
Have a great Friday!