What I'm Loving Wednesday
3/09/2011 06:15:00 AM
I thought that I would use this Wednesday to write a little bit about some of my favorite blogs with tips and ideas...it's the What I'm Loving Wednesday, Blogs with Tips Edition. (I plan on maybe sharing blogs I like that have life stories or great pictures, etc, someday!)
I would have to say that
I'm an Organizing Junkie
is one of my favorite blogs.
The things I love most about it is that there are little bits of inspiration in every post. I also love that I am always finding new things to try and new ideas for how to make my life easier! It's one of the blogs I read on a daily basis...it's addicting!
I also really like
Tip Junkie
-
I love the free printables on Tip Junkie but also the ideas and simple things that she talks about that make life so much easier.
I also love
IHeart Organizing
!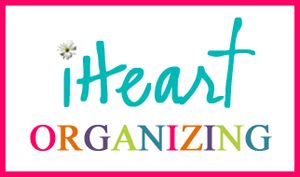 IHeart Organizing is actually the one who lead me to
Project Life
!
Becky's Blog
, the creator of Project Life, is also a great site to check out!
Right now she is having a sale on the digital version of Project Life - which I am tempted to try...I was thinking of doing a year (only 12 layouts - one per month) digitally while I do the kit weekly (one layout for 52 weeks!). We'll see.
I'm also a fan of the
Simple Mom
Blog. I looked and looked for a button on the homepage but my "first cup of coffee still not complete" brain isn't finding it.
But I did find a button for Project: Simplify - which has inspired me to start tackling Mt. Laundry this week. I may not have the first hot spot finished by Friday, but that's okay with me. At least my butt is moving now!
I think I'll stop here for now. Maybe next Wednesday I'll share some of the Food Blogs I love to read!
If you have any blogs with tips that you LOVE, put them in the comments section! I would LOVE to check them out! :)
Have a great Wednesday!