Five Question Friday! #4 and Friday Follow
3/05/2010 03:27:00 AM
Wow - you either have to get up REALLY early in the morning or stay up REALLY late at night to get at the beginning of this MckLinky! If you are headed over from Friday Follow - nice to meet you! Can't wait to check out your little space on the web, too!
Here's how YOU can join the celebration:
* Link up your blog name and URL using the MckLinky below – Only need to on one blog to be seen on all the blog hops.
* Follow the Friday Follow hostesses listed in the first 3 slots
* Follow as many blogs as you'd like
* Comment on the blogs telling them you're from Friday Follow
* Follow back when you get a new follower through Friday Follow
So - besides being Friday Follow is is also Five Question Friday...figured I'd kill 2 birds with one stone (so to speak) since I'm actually up in a somewhat quite house! 3 out of 4 are still sleeping - as they should be at 6am - but my "baby baby" is up and ready to go because he went down at 6 pm and never got back up last night. Slept the whole night through!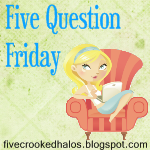 1. What's your guilty pleasure?
Hmm...blogging. Reading blogs, writing blogs - they all take up time that I could be doing other things. I try to squeeze it in when I don't have other things to do, but I ALWAYS have other things to do.
2. What is your favorite TV series?
We hardly ever watched TV until we got our DVR - now we record everything and catch up on it when the kids are asleep. I have a couple favorites but the two that I've really been enjoying that aren't on a premium channel (because I don't count those as TV for some reason) are
Glee
and
The Good Wife
- not necessarily in that order.
3. Can you speak any foreign languages?
Nope - I took Latin in High School to help with my SAT grades. I'm not sure if it did that or not. My SAT's were pretty good but nothing amazing. I didn't mind taking Latin, but I do wish I would have taken a more practical language - HOWEVER if you ask my Latin teacher he would tell you that Latin words are the roots for all of those other languages...so if you understand Latin you can understand all of those other languages, too. Maybe, but you can't speak them...
4. How many pairs of shoes do you own?
I hate shoe shopping...really, I do. I own...8 pairs of shoes. 2 pairs of tennis shoes, 1 pair of dress boots, 1 pair of winter boots, 1 pair of Crocs, 1 pair of dress shoes (black), 1 pair of sandals, and I
think
1 pair of flip flops. I have purchased shoes for special occasions like weddings, but I always end up getting rid of them shortly after because I know I'll never wear them again and they just collect dust.
My husband, however, is addicted to shoes. He probably has 20-25 pairs. I make him throw a pair out every time he buys a new pair because we have no more room for his shoes. Go figure.
5. What's your favorite kind of M&M's...peanut, almond, straight up regular, etc.?
I like ALL M&M's. In fact you would be hard pressed to find a piece of milk or dark chocolate that I don't like...not a fan of white chocolate, though.
I'd have to say that the dark chocolate M&M's are probably my favorite with the almond ones coming in a close second!
So...there you go! Head on over to
Mama M's
place and grab the questions to play, too! Leave me a comment so I can come read your answers!